Jenson Button has won the Australian GP-2010 to push the Mclaren further in the points tally. With a rain shower that just started before the race and some heavy crashes occuring throught the race, the safety car was deployed in the middle and there was a rush to the pitstops to change tyres .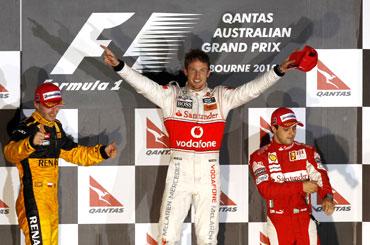 Robert Kubica meanwhile from Renault came second followed by Felipe Massa. Alonso came in fourth followed by Rosberg and Hamilton.
Vitantonio Liuzzi from Force India came in seventh.Indian racer Karun Chandok came in 14th and finished his first ever F1 race with the HRT team. Michael Schumacher in his Mercedes GP came in 10th and was the last to take one point home.
Alsonso still leads the championship with 37 points ,closely followed by Massa at 33 and Jenson Button at 31 points.The next F1 race Petronas Malaysian Grand prix (Kuala Lumpur)is scheduled on 02-04 th April .